On May 13-15, 2022 the Minton Lodge hosted a group of West Point graduates and Army Rugby players for a weekend of service and fellowship. The seven former cadets were hosted by Josh's parents and foundation founders Bob and Sally Minton. During the weekend, Josh's comrades spent time giving back to the foundation through a number of projects including splitting and stacking firewood, landscaping, and installing a water pipe from a new cistern to the front of the lodge. Additionally, each of the guests participated in an oral history interview that captured each of their military experiences for historical record.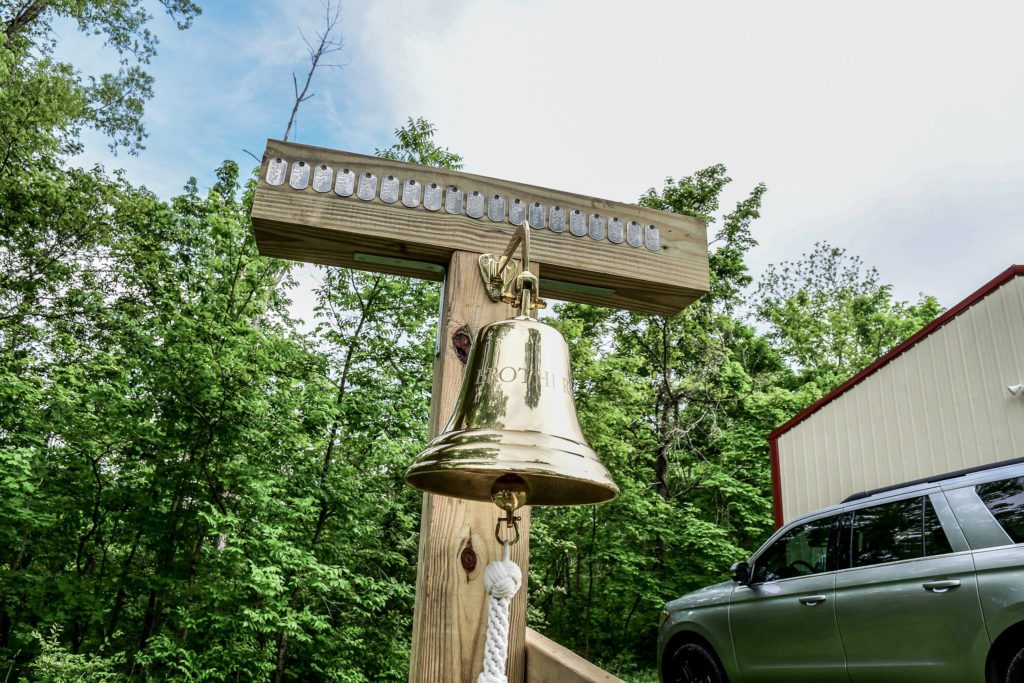 The high point of the weekend was the installation of a brass bell and cross near the entrance of the lodge. The bell is an exact replica of the memorial bell at the United States Military Academy in New York. Situated at the top of a hill behind Anderson Rugby Complex, the memorial is a reminder of the brotherhood that has been forged by members of the team since it was formed in the spring of 1961.
The simple wooden cross is made from two 4×4 beams. Unpainted and unfinished, it is fitting symbol of the gritty and grainy Army rugby player. Below the cross beam is a brass bell with the word "BROTHER" engraved on the front. It is a word synonymous with the program. Above the locker-room door at the Anderson Rugby Complex, one word leads to the field: "Brothers." Each huddle is broken with "Brothers on 3! One – two – three! Brothers!" The motivation is drawn from an unlikely source, one that may seem out of place to the gritty rugby player. Shakespeare.
"He to-day that sheds his blood with me, shall be my brother." The words from Henry V are sacred to the players past, present, and future.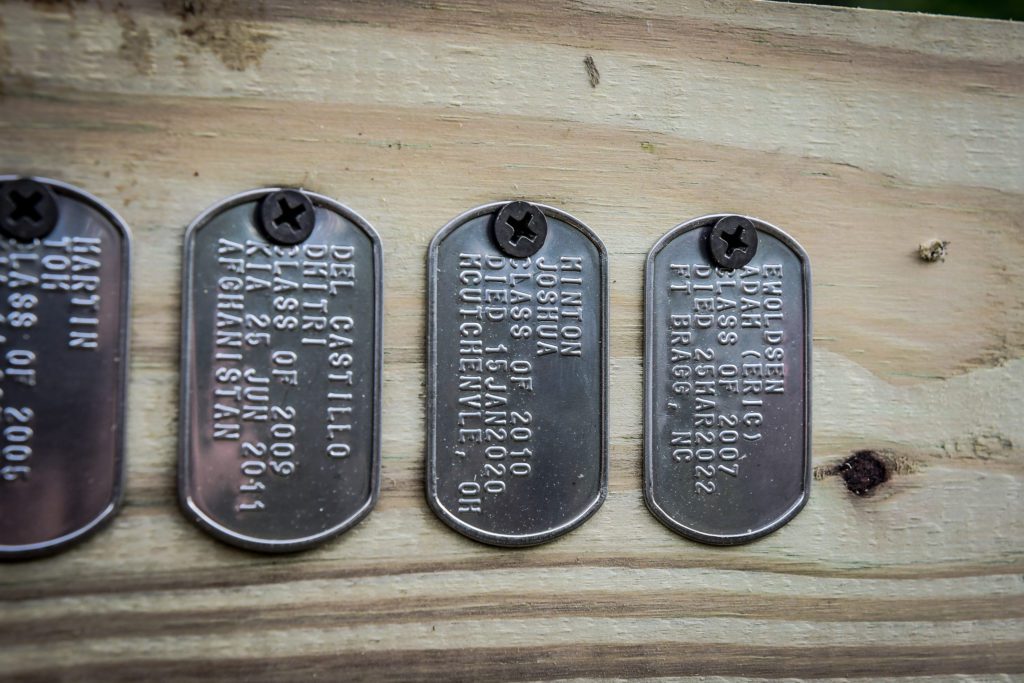 Brothers on 3 means no brother is ever forgotten. Across the beam are nailed 19 military dog tags. Engraved on each are the names of 19 brothers who have given their life in service to their country. The first is Clair Thurston Jr., class of 1964 who was killed in action on Nov. 8, 1965 in Vietnam. The most recent, Adam (Eric) Ewoldsen, class of 2007, passed away this past March at Fort Bragg, NC. Among the tags is Joshua Minton, class of 2010.
With the concrete poured and the screws set, the seven players gathered with Bob and Sally for a photograph. Then, they grabbed the rope together and rang the bell in memory of their son. A long ring echoed across the land that Josh purchased in 2018 when he was medically retired from the Army and now serves as the centerpiece of the foundation that bears his name.
"From this day to the ending of the world,
But we in it shall be remember'd;
We few, we happy few, we band of brothers."